I will undertake any aspect of Piano repair or Piano reconditioning, from replacing an old smelly backing cloth on an upright, to re-stringing a concert grand. I will always endeavour to use the original parts where possible so the instrument retains the playing characteristics it was originally designed to have. Where that is not possible, I will discuss with the client the best way forward, as each piano is individual and should be treated as such.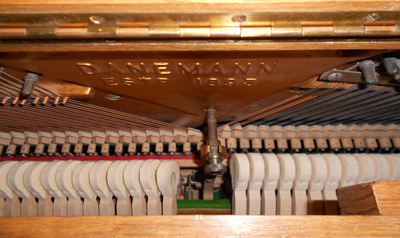 IS MY PIANO WORTH RECONDITIONING?
I always look at any reconditioning work the same way. Is it economically viable? Will the cost of reconditioning add value to the instrument? Or would it be better to use the money to buy another Piano?
RECONDITIONING OR RE-BUILDING?
Basically reconditioning is changing things like felts, leathers, springs, strings, and tuning pins, and re- building is fitting a new soundboard or a new wrest plank (tuning block). Re-building is rarely undertaken as the cost usually exceeds the price of buying a quality new Piano. If a Piano is unable to hold its tuning, fitting new strings and larger tuning pins will not always be enough. I will always give a honest and frank appraisal of your piano.
RE-FINISHING
I can advise, and undertake any aspect of casework repair and refinishing. You could have your piano stripped, stained, polished or waxed. Brasswork removed and buffed to a bright finish. Keys can be recovered or rebuffed.